An affordable, small business website design solution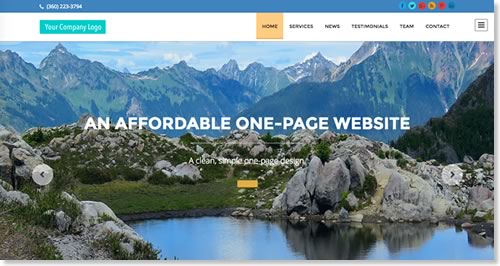 I've received inquiries from small businesses who need a web presence – quickly – but are not ready to dive into a "full-on" website just yet. In this day and age, it's vital for a growing company to have a web address where potential customers can find you, learn about you, and be able to easily contact you. New businesses just starting out may not yet have the revenue to invest in a larger, more complex website.
If this describes you and your small business needs, I am offering:
One-Page WordPress Website for only $225
( can be ready in about 72 hours if you have all your material ready to go)
What will you get for this price?
A beautiful, elegant website, built on a one-page WordPress theme: view demo.
Your logo, and pertinent information such as services, staff bios, special offers handsomely presented.
Email accounts configured.
Social media-friendly, making the page easy to share on Facebook, Twitter, etc.
Free minor updates to this page for 7 days after its launch.
A beautiful page that will help your small business GROW.
This is a simple, cost effective way for you to gain a professional web presence for your new business. The only cost not included in this package is your web hosting. I recommend BlueHost which provides a great price that includes your domain name registration, plus outstanding customer service whenever you need it. (Full disclosure: I am a Bluehost affiliate which simply means, I will receive a small commission from any new signups that come through my page. This in no way diminishes my appreciation and admiration for their outstanding service, particularly their customer service. Give them a try!)
Give me a call or send a text message if you have questions ~ 360-223-3794 ~ or ~